BALADI NEWS
Twelve years old and living in a makeshift tent near the border with Turkey, Mustafa dreams of attending school.
That dream is on hold for now.
Seven months ago, he packed his belongings and left his hometown in rural Aleppo province along with his parents and three siblings as Syrian and Russian bombing encroached upon them, making remaining there untenable.
The family of six now live in a small displacement camp near the town of Sarmada, in northern Idlib province.
Now they are relatively safe from the bombs that forced them away, though they have few supplies to keep themselves warm and fed. And for Mustafa and his siblings, there are no nearby schools to learn how to read and write.
According to his family, there are no schools in Mustafa's informal encampment outside Sarmada. Even if there were, he is unable to attend classes. As the oldest of his siblings, he has little choice but to work so his family can buy food, water and other basic necessities.
On a cold day in late February, Mustafa was working at a run-down car repair workshop, where he was fixing a loose wheel. The work earns him 2,000 Syrian lira ($3.88) per week, he says.
Just 500 meters away, Mustafa's family lives in their cramped tent. Inside, his father sits with metal pins in his leg due to injuries from an airstrike on their hometown. The injuries prevent him from being able to work and earn money for his family to survive in the makeshift camp.
According to the latest estimate by UK-based aid agency Save the Children, some 280,000 children have seen their education "severely impacted" by the latest bout of violence.
And over the course of one day in late February, ten schools were bombed in Idlib, reportedly killing nine children. Dozens of others were injured. Amid the carnage, at least 217 schools in the northwest have been "damaged or abandoned" since December due to the bombing, the organization said.
In Atma, a town about 14 kilometers north of Sarmada just along the border with Turkey, 14-year-old Muhammad hopes he can someday attend class. He dreams of becoming an architect, a career he admired "since I was little," according to the MEE.
But Muhammad is the oldest of three brothers, two of whom are studying in informal schools in their camp. The family fled their hometown in northern Hama province four years ago, after Muhammad's father was killed in an airstrike.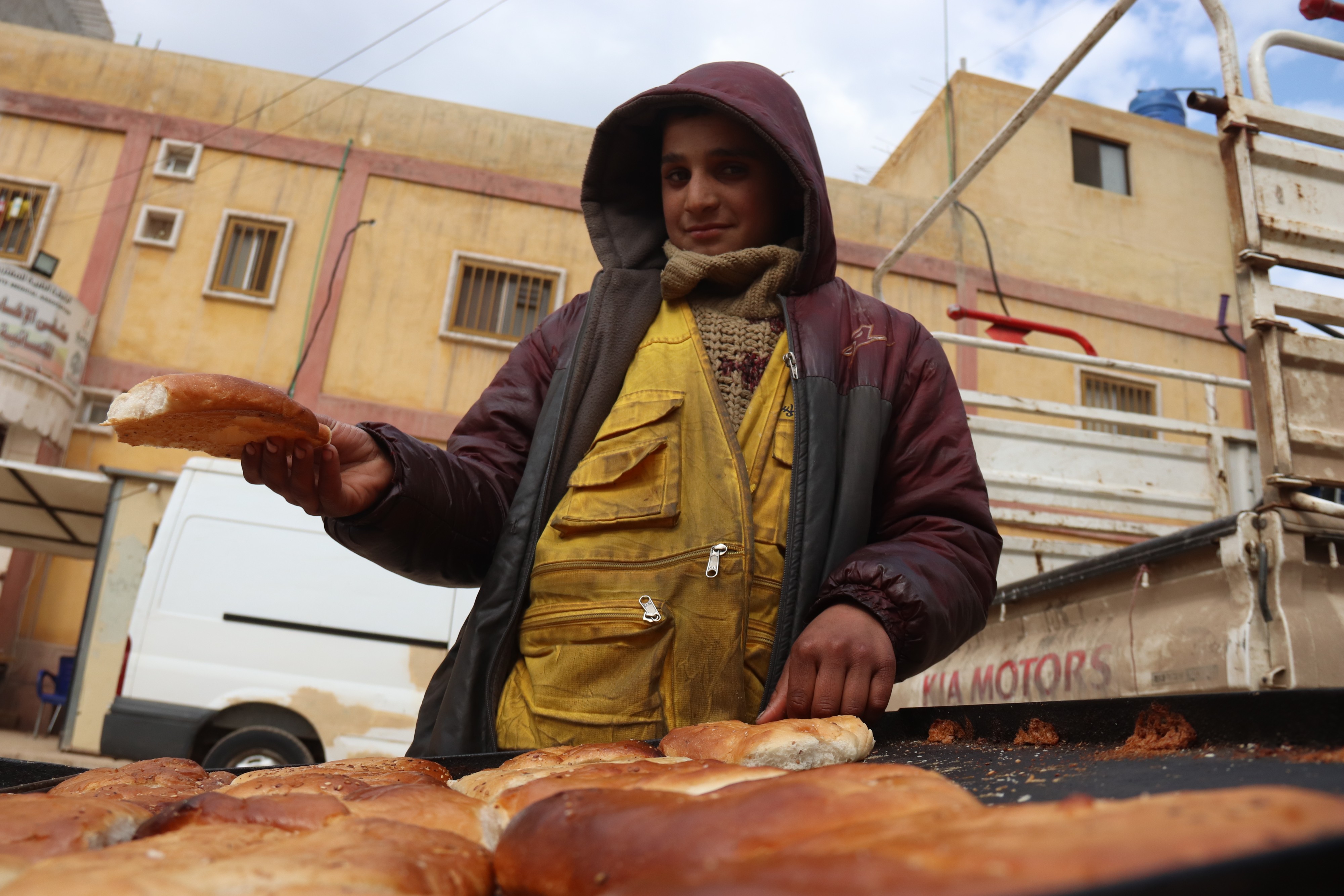 Now a teenager, Muhammad is their sole breadwinner and does not attend school. Instead, he goes out into the streets each morning, selling traditional simmoun pastries to passersby. He earns about $1.94 per day, enough to buy groceries for dinner each night.
At the repair shop near Sarmada, Mustafa also says his biggest hope is to finally start school. He's unsure when that may be with the ongoing fighting in parts of northwestern Syria.
Mustafa is still unable to read or write, he says. With the war now in its tenth year, most of his childhood has been marked by conflict and, now, displacement.
"It's really upsetting when I see something in writing and I can't read it."
Source: Middle East Eye.